Employment, wages, income and consumption are all in long-term downtrends, and the policy of grandiose stimulus funded by debt has failed spectacularly to reverse these secular trends.


Courtesy of frequent contributor Chartist Friend from Pittsburgh, here are four charts of wages, income and consumption.
The charts depict changes from a year ago (also called year-over-year) and the percentage of change from a year ago. These measure rates of change as opposed to absolute changes, and so they are useful in identifying trends.
As I noted in
Why the Middle Class Is Doomed
(April 17, 2012), advanced economies are caught in the pincers of rising costs of essentials (not just food and energy but education and medical care) and a global oversupply of labor that has been "localized" by the Internet, i.e. previously localized labor can now be performed anywhere on the globe.
The build-out of Internet infrastructure that culminated in the dot-com boom boosted employment, wages and consumption, and the credit-housing bubble of the mid-2000s also boosted income and consumption. Now that these temporary conditions have faded, what's left is the relentless chewing up of traditional industries by the Web as distributed software boosts productivity while slashing the number of people required to create value.
What's remarkable about the first chart is the increase in volatility in recent years: the changes in wages and salaries are increasingly dramatic. This might be reflecting the dynamics of the global economy pulling wages lower while massive financial-stimulus policies of the Central State and bank (the Federal government and the Federal Reserve) act to artificially boost wages with trillions of dollars in borrowed/printed money.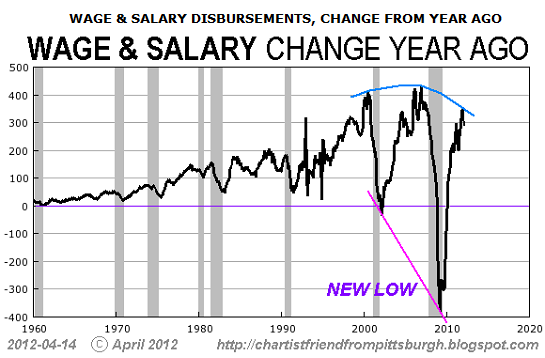 The downtrend is clearly visible in this chart: lower highs, lower lows.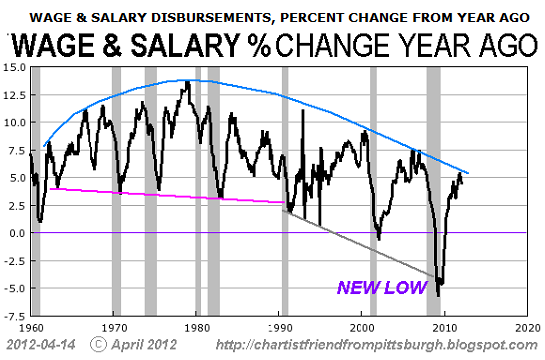 Real disposable personal income includes government transfers such as unemployment, which have soared in the "recovery." Higher taxes reduce disposable income, so we can anticipate lower personal income as bloated government spending is slashed and taxes rise.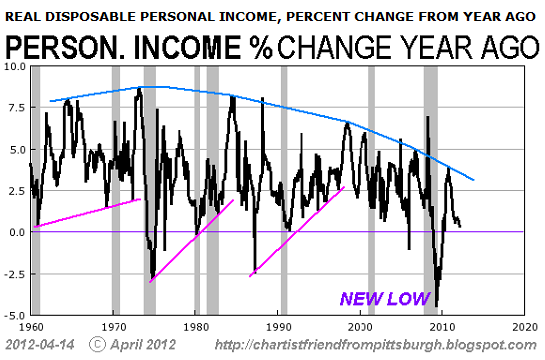 Real personal consumption rose on the back of unprecedented Central State/bank stimulus, but the boost provided by this injection of financial sugar is over and the economy is about to suffer glycemic shock as the costs and unintended consequences of this grandiose attempt to restart a virtuous cycle of "growth" with trillions of dollars in borrowed and printed money limit future injections of stimulus.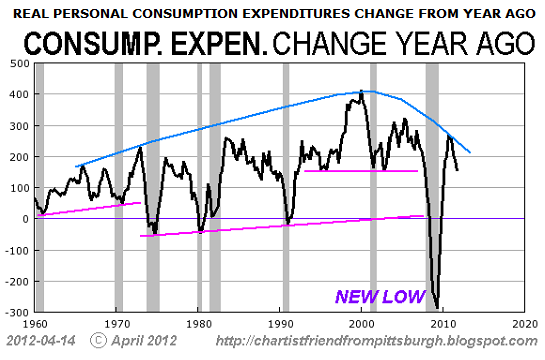 We can anticipate declining employment, wages, income and consumption as consequences of long-wave global trends, over-indebtedness and failed policy, i.e.
doing more of what has already failed spectacularly.
Charles Hugh Smith on the Death of the Middle Class (this is my first interview with Kerry Lutz of the Financial Survival Network, and I greatly appreciated Terry's keen questions on the era's key financial topics.)
---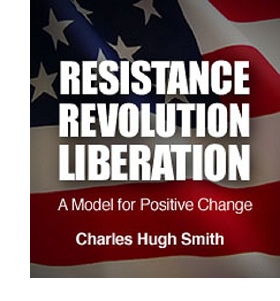 Resistance, Revolution, Liberation: A Model for Positive Change
will be available in a print edition later in April;
buy it now as a Kindle eBook for $9.95.
We are like passengers on the Titanic ten minutes after its fatal encounter with the iceberg: though our financial system seems unsinkable, its reliance on debt and financialization has already doomed it.We cannot know when the Central State and financial system will destabilize, we only know they will destabilize. We cannot know which of the State's fast-rising debts and obligations will be renounced; we only know they will be renounced in one fashion or another.
The process of the unsustainable collapsing and a new, more sustainable model emerging is called revolution, and it combines cultural, technological, financial and political elements in a dynamic flux.History is not fixed; it is in our hands. We cannot await a remote future transition to transform our lives. Revolution begins with our internal understanding and reaches fruition in our coherently directed daily actions in the lived-in world.
---
| | | |
| --- | --- | --- |
| Thank you, Royce M. ($100), for your outrageously generous contribution to this site--I am greatly honored by your support and readership. | | Thank you, Kendall H. ($50), for your monumentallyly generous contribution to this site--I am greatly honored by your support and readership. |