The Fed's "other" phone number offers the select few a most curious menu of choices.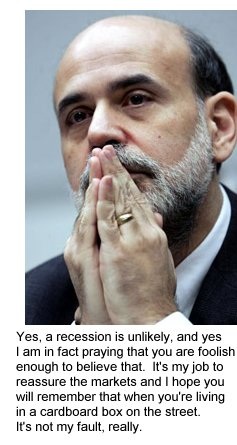 Very few know about the Federal Reserve's "other" phone number. You know, the one reserved for those in the innermost ring of power. Someone gifted me the number, and I found it offered up the most curious menu of choices:


Greetings. Please select one of the following options.
The Working Group for Global Domination does not exist. Members please press 1.
If you are a European leader seeking a secret bailout, please press 2.
If you are Chinese leader seeking assistance purchasing another Beverly Hills mansion with cash, please press 3.
If you are a domestic banker seeking another tranch of our $29 trillion in backstop funding, please press 4.
If you are an incumbent POTUS seeking re-election in a recessionary year, please press 5.
If you represent one of our proxy trading desks, please press 6 for your S&P 500 futures purchase instructions. As a reminder, please trade your own account via black pools.
If you would like today's target for the S&P 500 and Treasuries to assist in trading your own individual account, please press 7.
For bulk purchases of Hopium and/or Delusionol, please press 8.
Curious, indeed. America's privately owned central bank is an enchanted world, to be sure, where shadow systems do not officially exist, where blatant manipulation of the stock market is denied, and where global bankers get preferential treatment of all their needs.
In this shadow system, democracy, accountability and transparency do not exist. Within the innermost ring of power, democracy is merely the necessary illusion maintained for the psychological benefit of the easily distracted debt-serfs.
As long as they believe in democracy, social mobility and the supremacy of American might, they are happy to while away their time playing or watching mindless games. It's the perfect setup for easy control.
And if they get restive, there's always food stamps and a media-injected "treatment" of Delusionol.
---
TWO NEW VIDEO PRESENTATIONS FOR YOUR VIEWING PLEASURE:
Keiser Report video: Max Keiser and CHS discuss austerity death spirals and phantom wealth
(Wiley E. Coyote is referenced).

Gordon T. Long and CHS discuss Unsustainable Expectations: compelling charts galore:
---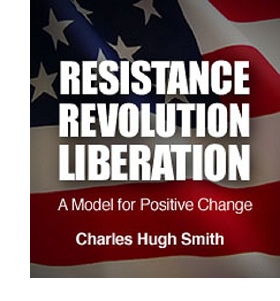 Resistance, Revolution, Liberation: A Model for Positive Change (print $25)
(Kindle eBook $9.95)Read the Introduction (2,600 words) and Chapter One (7,600 words) for free.


We are like passengers on the Titanic ten minutes after its fatal encounter with the iceberg: though our financial system seems unsinkable, its reliance on debt and financialization has already doomed it.We cannot know when the Central State and financial system will destabilize, we only know they will destabilize. We cannot know which of the State's fast-rising debts and obligations will be renounced; we only know they will be renounced in one fashion or another.
The process of the unsustainable collapsing and a new, more sustainable model emerging is called revolution, and it combines cultural, technological, financial and political elements in a dynamic flux.History is not fixed; it is in our hands. We cannot await a remote future transition to transform our lives. Revolution begins with our internal understanding and reaches fruition in our coherently directed daily actions in the lived-in world.
Thank you, Douglas E. ($15), for your marvelously generous contribution to this site--I am greatly honored by your support and readership.