Class warfare reflects a dysfunctional divide-and-conquer society.

One of the easiest ways to put someone on the defensive in America is to accuse him/her of being an elitist. The power of this accusation derives from a complex mix of dynamics. At least one goes all the way back to the founding principles of the nation: a profound and abiding distrust of monarchy and landed nobility, and a well-grounded fear that democracy could be subverted and a new form of feudal monarchy returned to power.

It is increasingly clear that a new form of feudalism has indeed subverted democracy, and that the New Feudalism is powered by concentrations of private wealth and centralized state control: what I call the New Nobility.

Recall my Feudalism Corollary #1:


If the citizenry cannot replace a dysfunctional government and/or limit the power of the financial Aristocracy at the ballot box, the nation is a democracy in name only.
This is why politicians bred in the hothouses of elite universities must perform "I'm one of you" rituals such as publicly enjoying low-brow snack food and attending mid-brow music performances. That such transparent immunizations against charges of elitism still work is testament to the credulity of a media-soaked populace.
There is an uglier aspect to the accusatory power of charges of elitism: as the sense that hard work and integrity are no longer guarantees of upward mobility in America, a corrosive class envy is coming to a boil.
This is the subtext of the emergent topic of the day, wealth and income inequality.
Since the vast majority of us cannot lash out in any satisfying way at the top .01% who own most of the wealth and control the political machinery--in other words, the New Nobility--we seek some other accessible target.
Expressing anger at the representatives of authority--police, Homeland Security, etc.--is a risky proposition, as being beaten and hauled off to jail or being shot are distinct possibilities.
Beyond the overwhelming use of raw force, authorities maintain an arsenal of soft weapons such as false public accusations, vague legal charges that keep morphing as the accused demolishes each specific charge, IRS audits, and so on.
This rage at the dominance of essentially feudal elites and their armies of underlings willing to enforce their rule is increasingly being directed at the elected toadies and lackeys. In response, craven politicos are restricting their exposure to angry serfs.
That leaves the top 10% as the only accessible target for class envy and the generalized rage of a peasantry that cannot identify the causes of their servitude.This is misdirection, of course; the top 10% of professionals and technocrats have benefited within the New Feudalism, but they are functionaries, not the New Nobility.
It's clear that the top 10%--the class of technocrats, professionals, entrepreneurs and creatives--has managed to increase their wealth despite the dominance of the top .01%, whose wealth and power has pulled away from the top 10% and even the top 1%.
The Richest Rich Are in a Class by Themselves: top .01% and top .1%
The top 5% has done marginally better than the top 10%, and the top 20% have done better than the bottom 80%: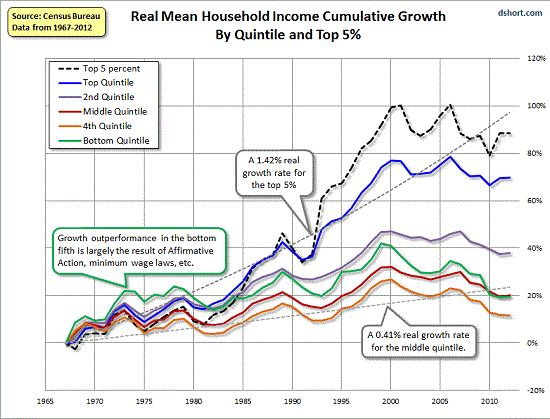 A household income of around $150,000 a year qualifies as a top 10% income:
$145,000 to $149,999: 90.20%
$105,000 to $109,999: 81.09%
$190,000 to $194,999: 95.21%
Because the super-wealthy are in the top 5% and top 1%, the average incomes of these groups are heavily skewed by the enormous incomes of the top 01%. As a result, it would be more accurate to remove the top .1% from the top 10%, top 5% and top 1%, but I haven't found any statistical charts that reflect this.
For their part, the top 10%/5% are feeling unfairly targeted by this class envy, as they pay the vast majority of income taxes:
CBO:Top 40% Paid 106.2% of Income Taxes; Bottom 40% Paid -9.1%
The Distribution of Household Income and Federal Taxes
While inherited wealth plays a part in the top .1%, most of the top 10%/5% have earned their wealth the old-fashioned way, by obtaining professional degrees or starting businesses, and by being married/having two incomes: Explaining income inequality by household demographics.
Rather than being "the enemy," the top 10% feels they're the good guys, the ones providing jobs and paying most of the taxes that support the bottom 40%. While the bottom 90% focuses on their own set of resentments, the top 10% have their own resentments: the public services they pay for are often marginal or poor quality.
This reality is fueling a movement of wealthier communities to incorporate into new cities that are operated for the benefit of their residents: services are run more like businesses than spoils systems (the default model of large urban cities), taxes are kept low and feedback from taxpayers keeps service quality high.
I have covered the various class fault lines emerging in America many times: The Three-and-a-Half Class Society (October 22, 2012)
The New Feudalism a partnership of the Tyranny of the Majority, entrenched incumbents and the top .1% Elites. If the political Status Quo alienates the majority by making them pay more taxes, they risk losing power in the next election. If they alienate the top .1% who fund their multi-million-dollar campaigns, then they will also lose power. So they heap the tax burden on what remains of the middle class.
There is a social dimension to this emerging class warfare, a topic I discuss in Bifurcation Nation (June 24, 2013). The top 20% is characterized not just by wealth but by a set of cultural behaviors, values and norms that are increasingly divergent from the norms and behaviors of the bottom 80%.
The haves are married, have college degrees, rarely have military service, attend religious services, and have little contact with those outside their own upper-middle class.
The have-nots are divorced/single parents, less educated, more likely to have served in the military, less likely to attend church, and earn much less than the haves.
I myself am routinely accused of being elitist, on the grounds that few can afford the meals I present here. I have repeatedly proven this assertion to be absolutely false, as home-cooked meals are cheaper than fast-food "value meals" or packaged convenience food. America's Excuse Book: Take Your Choice, Victim or Heartless Hypocrite (December 2, 2013)
These accusations are especially irksome because I have been low-income for most of my adult life and have carried far too much lumber on far too many jobsites to tolerate any accusations of elitism. I suspect many others routinely accused of elitism feel the same way.
The urge to accuse everyone with something better than you have of being part of an exploitive elite reflects not just generalized rage but the victory of victimhood. Sadly, one of the few ways for the marginalized in our society and economy to "get ahead" is to make claims of victimhood to secure disability, social services, etc. The core of victimhood is "it's not my fault." The system rewards victimhood, so it's no surprise that has become a dominant social norm.
And where does this set of norms lead us? To a dysfunctional divide-and-conquer society in which the top 10% paying most of the taxes is increasingly resentful of the .1% New Nobility above them and the masses below that look at the 10% as the only accessible target of their generalized anger at the injustice of their servitude and powerlessness.
The top .1% New Nobility, which of course includes all the craven politicos in thrall to the super-wealthy, have the means to sequester themselves away in gated estates and private jets. No wonder the top 10% is actively pursuing whatever means are available to avoid the resentments of those below.
Meanwhile, those running the mainstream media and the machinery of governance have to generate targets for the generalized rage other than the actual sources of dysfunction: the centralized state itself and the private concentrations of capital that partner with the state's elites in the New Nobility.

---
Want to give an enduringly practical graduation gift? Then give my new book Get a Job, Build a Real Career and Defy a Bewildering Economy, a mere $9.95 for the Kindle ebook edition and $17.76 for the print edition.
---
Join me on May 2 for the Sonoma Wine Country Conference: Investment Ideas Hidden In Plain Sight: great speakers, good cause (benefits Autism Society of America):

---
Get a Job, Build a Real Career and Defy a Bewildering Economy(Kindle, $9.95)(print, $20)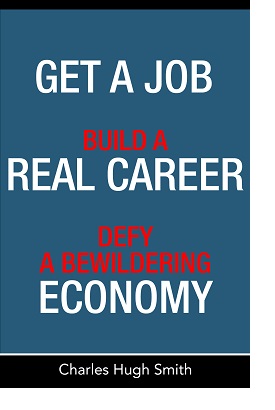 Are you like me? Ever since my first summer job decades ago, I've been chasing financial security. Not win-the-lottery, Bill Gates riches (although it would be nice!), but simply a feeling of financial control. I want my financial worries to if not disappear at least be manageable and comprehensible.
And like most of you, the way I've moved toward my goal has always hinged not just on having a job but a career.

You don't have to be a financial blogger to know that "having a job" and "having a career" do not mean the same thing today as they did when I first started swinging a hammer for a paycheck.

Even the basic concept "getting a job" has changed so radically that jobs--getting and keeping them, and the perceived lack of them--is the number one financial topic among friends, family and for that matter, complete strangers.

So I sat down and wrote this book: Get a Job, Build a Real Career and Defy a Bewildering Economy.

It details everything I've verified about employment and the economy, and lays out an action plan to get you employed.

I am proud of this book. It is the culmination of both my practical work experiences and my financial analysis, and it is a useful, practical, and clarifying read.

Test drive the first section and see for yourself. Kindle, $9.95 print, $20

"I want to thank you for creating your book Get a Job, Build a Real Career and Defy a Bewildering Economy. It is rare to find a person with a mind like yours, who can take a holistic systems view of things without being captured by specific perspectives or agendas. Your contribution to humanity is much appreciated."
Laura Y.
---
| | | |
| --- | --- | --- |
| Thank you, Don J. ($50), for your splendidly generous contribution to this site -- I am greatly honored by your steadfast support and readership. | | Thank you, Sharon J. ($50), for your supremely generous contribution to this site -- I am greatly honored by your longstanding support and readership. |