A new journal that tracks the latest revelations in the foreclosure crisis is now available.
Please welcome Foreclosure Crisis Weekly, a new publication dedicated to documenting the often-amazing foreclosure crisis. Since we can expect the crisis to unfold for years to come, the Weekly will undoubtedly have a reliable source of material for quite some time.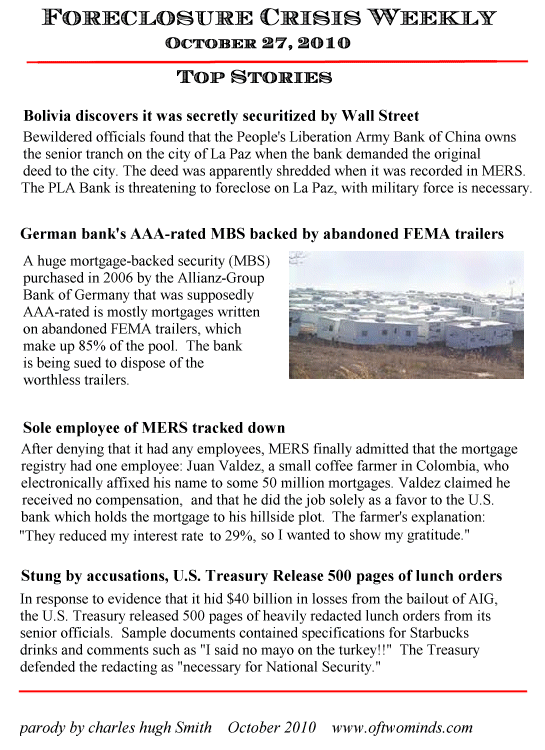 Although many of the real foreclosure stories may appear to be fabrications too outrageous to be true, please note this is a parody.




Special podcast: Steve over at Two Beers with Steve was generous enough to invite me back to discuss topics of great importance to both of us and to you: health, diet, fitness and taking charge of our own lives. Please give it a listen: Two Beers with Steve podcast.




If you would like to post a comment where others can read it, please go toDailyJava.net, (registering only takes a moment), select Of Two Minds-Charles Smith, and then go to The daily topic. To see other readers recent comments, go to New Posts.




Order Survival+: Structuring Prosperity for Yourself and the Nation and/or Survival+ The Primer from your local bookseller or from amazon.com or in ebook and Kindle formats.A 20% discount is available from the publisher.
Of Two Minds is now available via Kindle: Of Two Minds blog-Kindle
| | | |
| --- | --- | --- |
| Thank you, Carl G. ($25), for your many impressively generous contributions to this site-- I am honored by your ongoing support and readership. | | Thank you, Paul L. ($100), for your many outrageously generous donations to this site-- I am honored by your steadfast support and readership. |