Here is the December Issue of Foreclosure Crisis Monthly.
Though the foreclosure crisis may have faded from the Mainstream Media's coverage, Foreclosure Crisis Monthly continues its lonely battle to keep the banking/mortgage fiasco front and center in the national consciousness.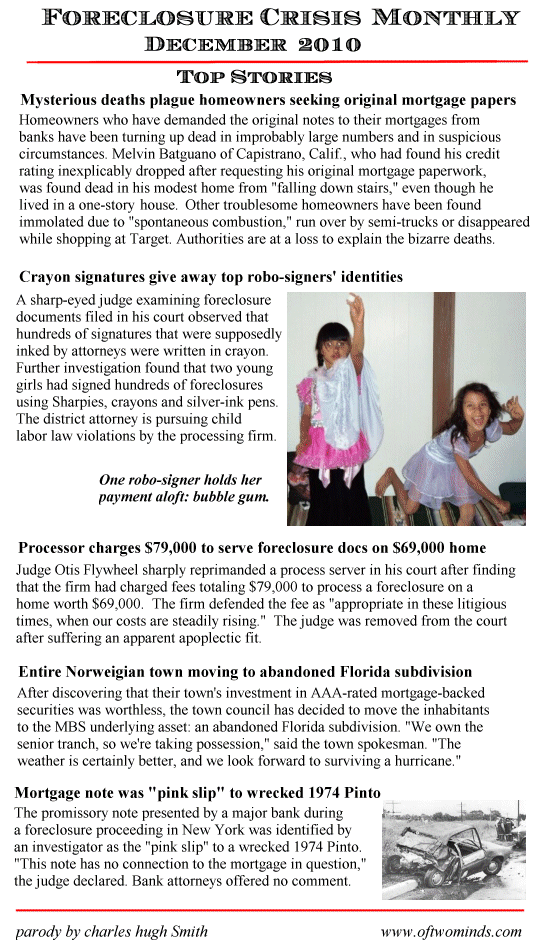 New recipes on What's for Dinner at Your House?--Elsewhere Cafe Muffins, and Louisa's Vegetarian Baked Beans


If you would like to post a comment where others can read it, please go toDailyJava.net, (registering only takes a moment), select Of Two Minds-Charles Smith, and then go to The daily topic. To see other readers recent comments, go to New Posts.



Order Survival+: Structuring Prosperity for Yourself and the Nation and/or Survival+ The Primer from your local bookseller or from amazon.com or in ebook and Kindle formats.A 20% discount is available from the publisher.
Of Two Minds is now available via Kindle: Of Two Minds blog-Kindle
| | | |
| --- | --- | --- |
| Thank you, Bradley S. ($25), for your remarkably generous donation to this site-- I am greatly honored by your support and your readership. | | Thank you, Salt & Light ($40), for your astonishingly generous contribution to this site-- I am greatly honored by your support and your readership. |