The correlation between the Fed's monetary heroin production and the stock market will break down as the market normalizes.

In the spirit of calling things what they are, longtime correspondent Harun I. explains that market crashes are simply distorted/mispriced economies attempting to normalize. Here's Harun's commentary:


Let's examine the term "crash." A crash is nothing more than the economy trying to normalize, however, everyone seems to think the environment created by bubbles (unpayable debt) is normal. This is truly fascinating because accepting unpayable debt as a norm means that prices are irrelevant, and since prices are irrelevant, there is no risk. But just because we think a thought does not make it a fact. Interestingly, each attempt at normalization requires exponentially greater amounts of expropriation of purchasing power.
Exactly, how does one grow one's way out of this? To clarify the term normalize, I mean that the economy shrinks to a level of real and sustainable supply and demand dynamics. Normalize does not mean "desirable" or "politically favorable."
Thank you, Harun, for describing the underlying dynamic of crashes. Just as forest fires normalize the forest's complex ecology by turning deadwood to nourishing ash and opening up the forest to new growth, in an analogous way crashes clear markets of financial deadwood and cartels that have blocked new growth.
I explain the analogy of the forest fire further in The Yellowstone Analogy and The Crisis of Neoliberal Capitalism (May 18, 2009).
We are living in a dying forest where fires have been suppressed at ever greater cost bcause the deadwood--the central bank and its cartel-cronies--are doing everything in their power to maintain their perquisites and power. But as Harun noted, the cost of each fire suppression (not just in eroded purchasing power but in systemic instability and the mispricing of risk) goes up dramatically.
Courtesy of mdbriefing.com, here is the Federal Reserve balance sheet--the main tool, along with Federal subsidies of politicized sectors such as home mortgages, of suppressing normalization of the economy and stock market: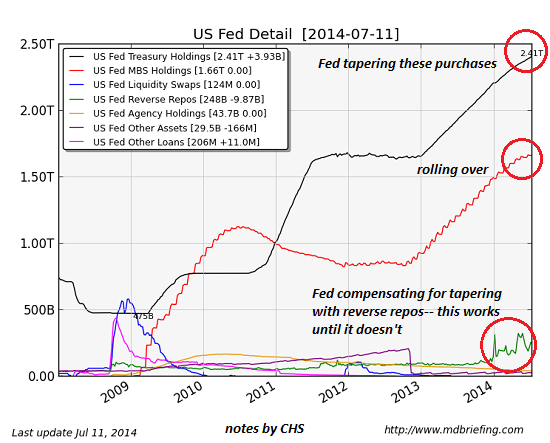 While the Fed can push monetary heroin into the financial system, it can't force anyone to shove the debt-needle in their arm. One consequence is the velocity of money is absolutely cratering. If there is any measure of the economy's underlying financial health, it's this: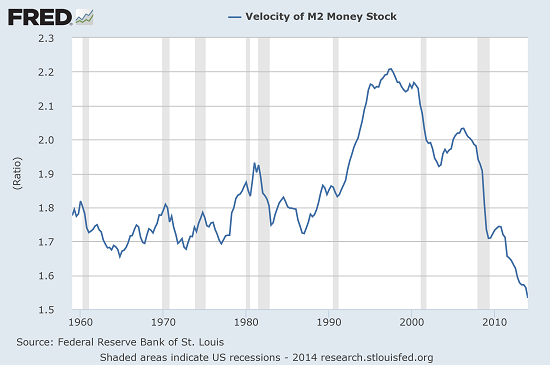 (thanks to correspondent Scott for calling my attention to this chart)
The correlation of the Fed's pushing of monetary heroin to the stock market has long been noted: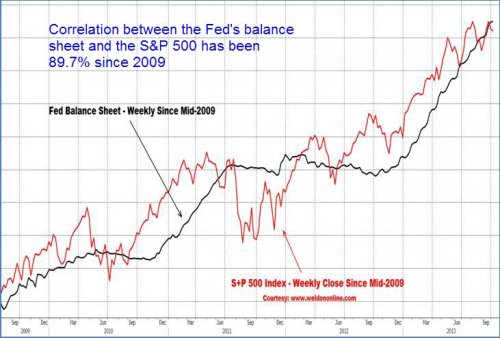 The question is: is correlation causation? In other words, will the market continue to loft higher regardless of any other inputs as long as the Fed is pushing some kind of monetary heroin into the financial sector?
As noted on the chart of the Fed balance sheet, the Fed's purchases of Treasury bonds and home mortgages are both rolling over (tapering), and so the Fed has been substituting another form of synthetic monetary heroin (reverse repos) to suppress the much-needed and long-delayed normalization of the economy and stock market.
Suppressing the next fire will take more than the reverse repo squirt-gun. Given the tremendous forces needing to be normalized, the correlation between the Fed's monetary heroin production and the stock market will break down as the market normalizes, much to the shock of all the financial deadwood that's been protected all these years.
To those who believe the correlation of Fed monetary heroin and the stock market is eternal and cannot possibly come undone, please consider this line from songwriter Jackson Browne: Don't think it won't happen just because it hasn't happened yet.
---
Get a Job, Build a Real Career and Defy a Bewildering Economy(Kindle, $9.95)(print, $20)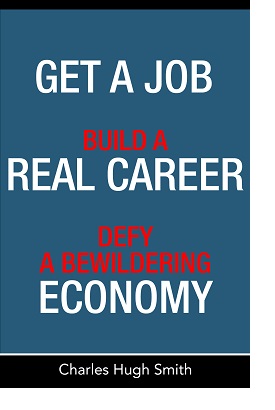 Are you like me? Ever since my first summer job decades ago, I've been chasing financial security. Not win-the-lottery, Bill Gates riches (although it would be nice!), but simply a feeling of financial control. I want my financial worries to if not disappear at least be manageable and comprehensible.
And like most of you, the way I've moved toward my goal has always hinged not just on having a job but a career.
You don't have to be a financial blogger to know that "having a job" and "having a career" do not mean the same thing today as they did when I first started swinging a hammer for a paycheck.
Even the basic concept "getting a job" has changed so radically that jobs--getting and keeping them, and the perceived lack of them--is the number one financial topic among friends, family and for that matter, complete strangers.
So I sat down and wrote this book: Get a Job, Build a Real Career and Defy a Bewildering Economy.
It details everything I've verified about employment and the economy, and lays out an action plan to get you employed.
I am proud of this book. It is the culmination of both my practical work experiences and my financial analysis, and it is a useful, practical, and clarifying read.
Test drive the first section and see for yourself. Kindle, $9.95 print, $20
"I want to thank you for creating your book Get a Job, Build a Real Career and Defy a Bewildering Economy. It is rare to find a person with a mind like yours, who can take a holistic systems view of things without being captured by specific perspectives or agendas. Your contribution to humanity is much appreciated."
Laura Y.
Gordon Long and I discuss The New Nature of Work: Jobs, Occupations & Careers (25 minutes, YouTube)
---
NOTE: Contributions/subscriptions are acknowledged in the order received. Your name and email remain confidential and will not be given to any other individual, company or agency.
| | | |
| --- | --- | --- |
| Thank you, Bryan S. ($100), for your outrageously generous contribution to this site -- I am greatly honored by your steadfast support and readership. | | Thank you, Lee B. ($20), for your splendidly generous contribution to this site -- I am greatly honored by your steadfast support and readership. |