For my money, we eat like kings and queens.
If you want to start a food fight, ask people about their monthly grocery bill--what the USDA calls food at home, as opposed to meals purchased outside the home.
Some people will have no idea what their real grocery/food at home outlays actually total, others will mention their budget, others will brag about their frugality (count me in) and others will brag that they eat out most of the time and never prepare meals at home.
Every once in a while we'll save receipts from a typical month, and I'll create a spreadsheet of all food expenses, both groceries for meals prepared at home and meals bought outside the home.
We spent $218.34 on groceries in one month. This includes two trips to Costco (total cost of $68.69) and four trips to our favorite local markets ($149.65).
The data isn't perfect, of course; we bought a tin of coffee that remains 90% full, and we used some ingredients from the freezer and pantry that we didn't buy this month. But on average, this balances out.
There is also food that we bought to take to others' parties/BBQs, which was mostly consumed by the host family and other guests. I'm adding in the $25.49 for meat purchased to grill at friends' homes, for a total grocery bill of $243.83.
We gave friends other things we made, and received some food gifts (homemade kim chee, for example).
Despite these minor additions/subtractions, I think this is a very accurate accounting of our actual expenses for food.
Our total expenses were around $4 per person per day. Granted, we don't eat huge quantities of food three times a day, but we ate three meals a day.
To understand our bill, I should stipulate a few things:
1. We waste very little food. Some people we know scrape the leftovers right into the trash after dinner. To Scots-Irish/East-Asians (i.e. our household), this is akin to 1) a mortal sin and 2) like tossing a $20 bill into a fire. Some people make it a point of pride to never eat leftovers. We are not those people. Personally, I don't think throwing away perfectly good food is a way to get rich or live better. (It is estimated Americans throw away 40% of the food they buy. As an occasional dumpster-diver, I believe it.)
2. This total does not include paper products, cleaning supplies, cat food, alcoholic beverages, etc. This is groceries only.
3. A membership to Costco (or equivalent) is an essential component of reducing grocery costs.
4. We generally buy fresh produce at ethnic markets, where the pricing and quality are very competitive. We live in a diverse region with many such choices.
5. When given a choice, we try to buy organic and local produce, but we are not wedded to any strict guidelines.
6. We eat a wide variety of foods and cuisines, generally along the Mediterranean/ East-Asian diets: meat is often a condiment, not the main dish, and we often eat meatless meals.
7. Of the 180 meals in our household in a month (3 meals a day X 30 days X 2 people), we bought 24 meals outside and ate 156 meals at home.
8. Both of us like to cook, so there is a wide variety of food prepared in our house.
9. Our garden supplied a few things, but it hasn't really kicked in yet. We harvested small quantities of lemons, kale, chard, lovage, lettuce, red potatoes and parsley from our "winter garden," but the dollar value of these "free" veggies and fruit is relatively modest. In summer, when production increases, we will buy far fewer veggies.
10. We don't buy or eat packaged foods such as frozen burritos, pizzas, etc. All our meals are prepared with fresh ingredients.
11. We buy what's on sale but don't buy poor quality food. We buy sales at Costco and seasonal sales at ethnic markets.
12. We will splurge on what we like.
For two adults in our age bracket (over 51), the levels are:
Thrifty: $365/month
Low-cost: $472/month
Moderate: $588/month
Liberal: $710/month
We spent much less than the Thrifty level.
Interestingly, the maximum food stamps (SNAP) allotment for a household of two adults is $357/month. The rules governing how much a household actually receives in SNAP benefits are complex, as it depends on how much income the household gets, the assets owned, childcare expenses, etc.
It seems as if we could get by quite well on two-thirds of the maximum SNAP benefit.
Here's one of our recent meals prepared at home: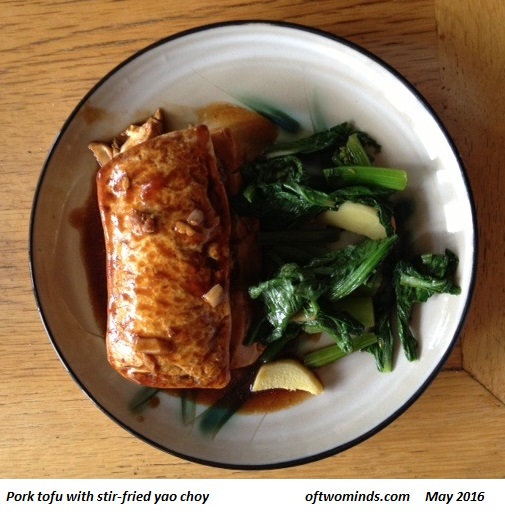 Here's one using Russian kale from the garden: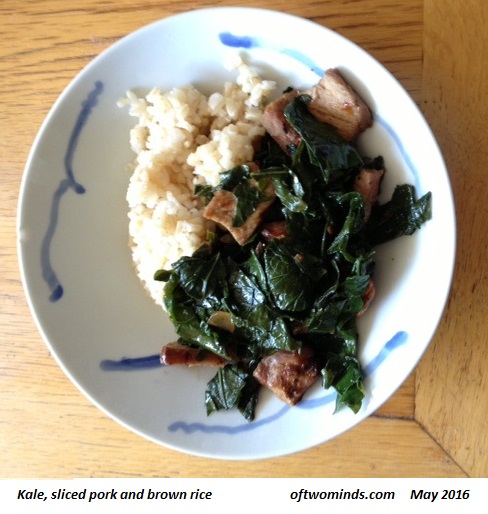 I also kept track of our meals away from home expenses. We spent $119.22 on 20 meals at cafes/bakeries, mostly baked goods and banh mi (Vietnamese style sandwiches), though this does include two cafe-style dinners. This works out to about $12/meal or $6/person per meal away from home.
Our total cost for meals at home and meals purchased outside was $363, with the exception of two "splurge" meals: we treated my Mom and her boyfriend to a "fancy" restaurant lunch and I took my sister out to dinner for her birthday.
The total cost of the 156 meals prepared at home works out to $1.56 per meal.The cost of the 20 typical meals away from home works out to $6 per meal.
As for the other household expenses: our cat enjoys Friskies bought in bulk from Costco and I buy a case of domestic craft beer at Costco for $26 a case, including the bottle deposit fee. Taking care of the cat and my goal to support the domestic craft beer industry pushes the budget up to around $400 a month, or around $4,800 annually.
For my money, we eat like kings and queens. So far as I can tell, the cat agrees.
---
NOTE: Contributions/subscriptions are acknowledged in the order received. Your name and email remain confidential and will not be given to any other individual, company or agency.
| | | |
| --- | --- | --- |
| | Thank you, Blaise S. ($20), for your most generous contribution to this site-- I am greatly honored by your support and readership. | |