Bubbles are followed by echo-bubbles, and the bursting of the second bubble ends the speculative cycle.


If we have learned anything in the past 20 years of massive asset bubbles and equally massive declines when the bubbles finally pop, it's this: those caught up in the expansionary phase of the bubble cannot believe the bubble that's rewarding them so richly could actually burst.


This psychology of mass delusion now dominates housing, stocks and bonds: not only is this not a bubble, the expansion will continue forever.


History, however, suggests otherwise: all bubbles burst, period. With that in mind, I've made a few notes on a chart of the Case-Shiller Home Price Index. This chart displays both the nation Case-Shiller index and the San Francisco Bay Area index.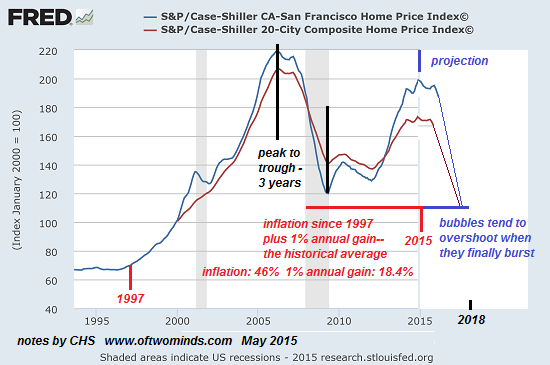 Over the long-term, housing has tended to rise about 1% annually above inflation. According to the Bureau of labor Statistics, $1 in pre-bubble 1997 is $1.46 in 2015 dollars. A 1% gain over the past 17 years adds 18.4%.
If we add inflation and a 1% annual gain, we find a historically justified target around 110 on the Case-Shiller index.
One of the more striking characteristics of bubbles is their symmetry: if the expansionary phase took 3 years, the bursting phase also takes around 3 years to complete.


The last housing bubble took about 3 years from peak to trough, and this provides a baseline projection for the decline of the current housing bubble, which is shaping up as a classic echo-bubble: very much like the previous bubble, but of slightly lower magnitude.


In essence, Hanson suggests that the narrow base of the current bubble expansion--all cash buyers (speculators, private-equity funds, overseas oligarchs and corrupt officials, etc.) and marginal borrowers relying on highly leveraged FHA and VA mortgages--will collapse much quicker than the previous bubble, which was inflated by a much larger base of market participants.
Bubbles also have a habit of overshooting when they finally burst. the Federal Reserve acted quickly to re-inflate the housing bubble by lowering interest rates to near-zero and buying over $1 trillion of mortgage-backed securities. Given the narrow base of the current bubble, these tricks will not work should the Fed attempt to inflate Housing Bubble 3.0.


In general, bubbles are followed by echo-bubbles, and the bursting of the second bubble ends the speculative cycle. There is no fundamental reason why housing could not round-trip to levels well below 100 on the Case-Shiller Index when the current bubble finally bursts.


If Mark Hanson's analysis is prescient, it may not require 3 years for the current housing bubble to implode; 2 years (2017) might be more than enough time for the speculative excesses to evaporate.
As I have noted before, when the herd turns, risk-on bids disappear, and the bottom drops out of the market much faster than participants believe is possible.
---
Get a Job, Build a Real Career and Defy a Bewildering Economy(Kindle, $9.95)(print, $20)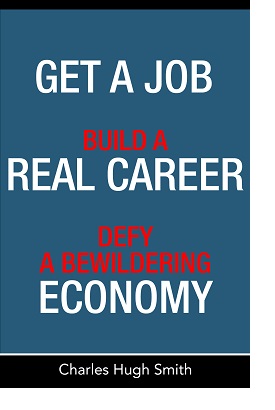 Are you like me? Ever since my first summer job decades ago, I've been chasing financial security. Not win-the-lottery, Bill Gates riches (although it would be nice!), but simply a feeling of financial control. I want my financial worries to if not disappear at least be manageable and comprehensible.
And like most of you, the way I've moved toward my goal has always hinged not just on having a job but a career.

You don't have to be a financial blogger to know that "having a job" and "having a career" do not mean the same thing today as they did when I first started swinging a hammer for a paycheck.

Even the basic concept "getting a job" has changed so radically that jobs--getting and keeping them, and the perceived lack of them--is the number one financial topic among friends, family and for that matter, complete strangers.

So I sat down and wrote this book: Get a Job, Build a Real Career and Defy a Bewildering Economy.

It details everything I've verified about employment and the economy, and lays out an action plan to get you employed.

I am proud of this book. It is the culmination of both my practical work experiences and my financial analysis, and it is a useful, practical, and clarifying read.

Test drive the first section and see for yourself. Kindle, $9.95 print, $20

"I want to thank you for creating your book Get a Job, Build a Real Career and Defy a Bewildering Economy. It is rare to find a person with a mind like yours, who can take a holistic systems view of things without being captured by specific perspectives or agendas. Your contribution to humanity is much appreciated."
Laura Y.

Gordon Long and I discuss The New Nature of Work: Jobs, Occupations & Careers(25 minutes, YouTube)
The Old Models of Work Are Broken
---

NOTE: Contributions/subscriptions are acknowledged in the order received. Your name and email remain confidential and will not be given to any other individual, company or agency.
| | | |
| --- | --- | --- |
| | Thank you, Adam S. ($20), for your remarkably generous contribution to this site-- I am greatly honored by your support and readership. | |