This Old McMansion, March 2008

Before we unveil the new issue of This Old McMansion, let's stroll through this site's archives for a moment.

In honor of the "slumburbs" (thanks to U.Doran for this story: Is Suburbia Turning Into Slumburbia?), let's turn to my more polite phrase, degentrification:

The Great Fall: How Suburbs De-gentrify to Ghettos (November 20, 2007)

As the housing bubble bursting drags the economy into recession, let's recall these entries:

As the Real Estate Bubble Pops, so Does the Economy (March 14, 2006)
Can 4% of Homeowners Sink the Entire Market? (February 21, 2007)

And in honor of Bear Stearns falling from $90/share to $2/share almost overnight (drum roll please), let's recall these entries from years past:

Catalyzing the Great Unraveling (September 3, 2005)
The Scandals Yet To Come (October 25, 2005)
Could One Rogue Trader Bring Down Global Financial Markets? (November 30, 2005)
The Coming Conflagration (January 17, 2006)

Over the past few years, whenever I have suggested that many distant slumdivisions would be bulldozed, the startled listener would react as if I'd said something truly insane, such as "we're not in Iraq for the oil." Alas, I still believe we shall see D-8 and D-9 Catepiller bulldozers crunching down rotting, abandoned bubble-era houses as the cheapest way to rid the community of the eyesores/"attractive nuisances."

Of course first they'll try to sell the pathetic, stripped, vandalized dumps for $1; alas, if nobody wants to live there, you won't be able to give them away: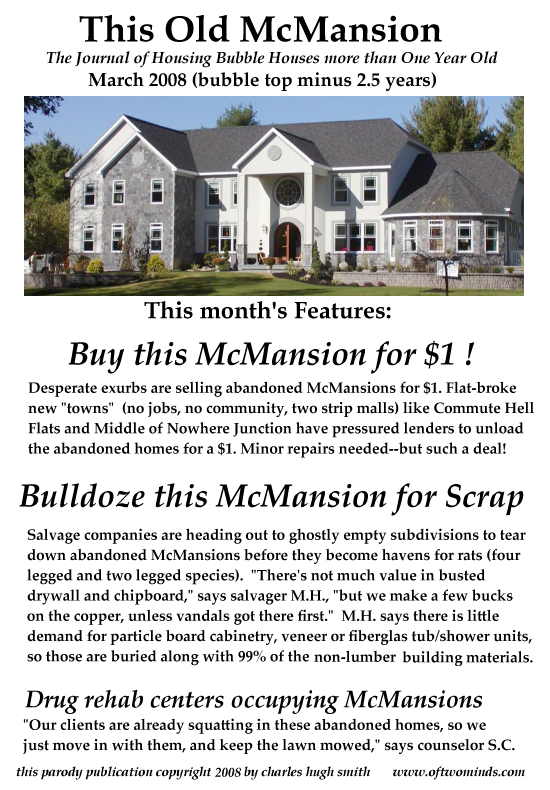 NOTE: contributions are humbly acknowledged in the order received. Your name and email remain confidential and will not be given to any other individual, company or agency.

Thank you, Eric A. ($20), for your ongoing generous support of this humble site. I am greatly honored by your contributions and readership. All contributors are listed below in acknowledgement of my gratitude.