Either join the disruptors or prepare to be disrupted.


Disruptive technology is a tiresome cliche, as every Twitter/ AirBnB/ Uber/ Skype/etc. wannabe start-up declares itself disruptive. That the vast majority of self-congratulatory start-ups are over-hyped and derivative should not distract us from the larger reality that some technologies do in fact disrupt how things are done.


Fossil-fueled mechanization, for example, turned an overwhelmingly rural farming society into a highly urbanized services-dominated economy.
In the more recent past, CraigsList single-handedly turned the newspaper industry from an immensely profitable license to print money (via costly classified ads) to a struggling sector with an unclear future.
Digital file-sharing turned the $14 billion music industry into a $7 billion industry.
And now driverless vehicles are poised to disrupt the taxi and trucking sectors in ways few predicted.
The core idea of Disrupt or be Disrupted is that every sector and industry that avoids being disrupted just becomes a fatter target for disruption.


Higher education is a prime example. The industry has successfully staved off disruption by maintaining a lock on credentialing/accreditation--the famous signaling value of a college diploma, which verifies nothing about what the student learned or knows.


Now that student loan debt is $1.3 trillion and the administrative bloat of higher education can no longer be obscured, the industry is becoming a fatter, juicier target for massive technological disruption by the day.
Employers should receive more than an increasingly worthless signal--they should be offered an accreditation of each individual's actual skills and knowledge. This is self-evident, but impossible in the current cartel-state arrangement.
Healthcare is another sector with bloated costs and protected fiefdoms that is ripe for fundamental disruption. Reductions of 50% or more that lead to better overall health do not require whizbang science fiction advances; simply eliminating the paperwork and cartels and making patients responsible for their care and the costs of their treatments would be enough to unleash a disruptive revolution.


What few in these protected industries dare admit is the state/cartel cost structures are now so burdensome, the nation can no longer afford these services.Healthcare has risen from 5% of GDP to 19%. The more burdensome and intractable the systemic costs, the greater the gains to be reaped from disrupting the status quo.


The Military-Industrial/National Defense Complex is another sector ripe for massive disruption and reduction of costs. Compare the troubled $1 trillion F-35 aircraft program (which is increasingly looking like the most expensive weapons system failure in human history) with increasingly effective and cheaper drones: A Drone Has Never Linked Up With a Refueling Tanker Until Now.
In other words, protecting unaffordable, ineffective fiefdoms and cartels will be a losing strategy in the next 20 years. These costs will come down, one way or another, either by the erosion and collapse of the funding sources or by tech-enabled socio-economic disruptions.


That leaves everyone depending on any existing sector/industry that hasn't yet been turned upside down with a choice: either join the disruptors or prepare to be disrupted.


This essay was drawn from Musings Report 11. The weekly Reports are emailed exclusively to subscribers ($5/month) and major contributors $50+/year).
---
Get a Job, Build a Real Career and Defy a Bewildering Economy(Kindle, $9.95)(print, $20)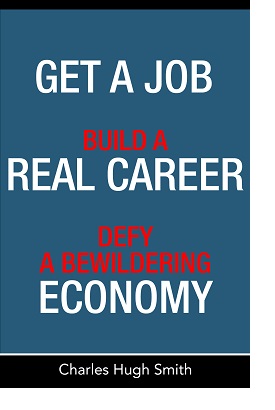 Are you like me? Ever since my first summer job decades ago, I've been chasing financial security. Not win-the-lottery, Bill Gates riches (although it would be nice!), but simply a feeling of financial control. I want my financial worries to if not disappear at least be manageable and comprehensible.

And like most of you, the way I've moved toward my goal has always hinged not just on having a job but a career.

You don't have to be a financial blogger to know that "having a job" and "having a career" do not mean the same thing today as they did when I first started swinging a hammer for a paycheck.

Even the basic concept "getting a job" has changed so radically that jobs--getting and keeping them, and the perceived lack of them--is the number one financial topic among friends, family and for that matter, complete strangers.

So I sat down and wrote this book: Get a Job, Build a Real Career and Defy a Bewildering Economy.

It details everything I've verified about employment and the economy, and lays out an action plan to get you employed.

I am proud of this book. It is the culmination of both my practical work experiences and my financial analysis, and it is a useful, practical, and clarifying read.

Test drive the first section and see for yourself. Kindle, $9.95 print, $20

"I want to thank you for creating your book Get a Job, Build a Real Career and Defy a Bewildering Economy. It is rare to find a person with a mind like yours, who can take a holistic systems view of things without being captured by specific perspectives or agendas. Your contribution to humanity is much appreciated."
Laura Y.

Gordon Long and I discuss The New Nature of Work: Jobs, Occupations & Careers(25 minutes, YouTube)
---

NOTE: Contributions/subscriptions are acknowledged in the order received. Your name and email remain confidential and will not be given to any other individual, company or agency.
| | | |
| --- | --- | --- |
| | Thank you, Al I. ($50), for your splendidly generous contribution to this site-- I am greatly honored by your steadfast support and readership. | |