All sorts of centralized organizations that appear rock-solid may well melt into air as the disintegrative dynamics gather momentum.
Rising political and social discord that is generally being attributed to "populism" may actually be the re-emergence of ancient geographic and cultural fault lines. An often-overlooked manifestation of this might be the nation-state of Germany, a possibility fleshed out by longtime correspondent Mark G.
It's both convenient and expedient for politicos to blame "populism" for the fracturing of the status quo. Given the unsavory undertones of ethnic/religious bias of "populism," this allows the media-savvy politico (and aren't they all media-savvy?) to paint his/her opponents as racist via the code-word "populist."
Labeling dissenters "populists" doesn't explain or predict anything. In terms of economic classes, it's more insightful to distinguish between the Protected Class (insiders and favored elites) who benefits enormously from the status quo and the Unprotected Class (outsiders, marginalized workers, those without privilege or access to cheap capital).
But this doesn't exhaust the sources of profound social discord.
As historian Peter Turchin explained in his recent book
Ages of Discord
, historical eras are either
integrative
periods in which people find reasons to cooperate and join forces, or
disintegrative
periods in which reasons to split apart become dominant.
Clearly, the world-system of this era is entering a disintegrative phrase, and dismissing dissenters as "populists" solves nothing. For insight on how the disintegrative phase may manifest in Germany, let's turn to Mark G.'s commentary:
The breakdown of the Bavarian CSU and German CDU center-right coalition (refounded post WWII by Konrad Adenauer) is historic. And it has definite regional implications. I think we could be watching the beginning moves not in a "German Brexit" but in the political collapse of the modern German state into multiple components. As I mentioned last year, I personally expect this because modern Germany is a rump survival of Bismarck's Wihelmine German Empire. It has lost all strategic rationale for its existence. And under Frau Merkel it has almost no military forces and no control of its own borders. Such a 'state' cannot long endure.
"Mr Seehofer – who is also the chairman of coalition partner the Christian Social Union (CSU) – has agreed to give Mrs Merkel two weeks to try and thrash out a Europe-wide migration policy with other leaders at the European Council meeting at the end of the month."
Merkel has zero point zero chance of reaching any Europe-wide agreement on immigration given the present composition of the governments of Austria, Italy, Hungary, Slovakia, Czechia and Poland. Since 2015 all of them have been electorally remodeled into populist based governments with fundamental anti-refugee and anti-migrant views. As an example, when we passed through the Sudetenland last year in Czechia the highway billboards openly proclaimed "No Islam - No Terrorism".
Their thinking is vastly closer to Seehofer's than to Merkel's. Merkel can't even control her primary CSU coalition partner any further. What is more likely to occur is the German government, or multiple successor German governments, will move much closer to the eastern European position.
And if Merkel attempts to construct a hard left domestic coalition consisting of the CDU, the SDP, the Greens and "The Left" (Die Linke) to continue her present policies, then I expect the CDU itself to experience an internal split and also further hemorrhaging to Alternativ fur Deustschland. Its difficult to see her retaining her position in the CDU after presiding over the collapse of the historic CDU/CSU coalition.
New elections are highly likely in these circumstances. And in the last elections the main Center parties - CDU/CSU and also SDP - all lost significant numbers of supporters to the AfD and Die Linke. Another round at this point will probably produce a much larger AfD, plus political gridlock as the Establishment attempts to ignore the democratic result.
On an anecdotal basis, last year I again met individuals in Rheinland-Pfalz who in 2015 had been members of The Greens. Come 2017 they all had left the Greens and were wavering between the CDU & AfD.
On a related issue: it seems to me the present migration induced political crisis in German politics will cause the PIGS to attempt to rebid and renegotiate the terms of their ECB/IMF bailouts.
Thank you, Mark. I think it is fair to say that Marx's famous summary of the disintegrative forces inherent in capitalism--"Everything solid melts into air"-- aptly describes the core dynamics of disintegrative phases.
It's instructive to study a map of proto-Germany circa 1866 and ask if the geographic, political and cultural lines visible on this map still pertain beneath the surface of a monolithic modern state. All sorts of centralized organizations that appear rock-solid may well melt into air as the disintegrative dynamics gather momentum.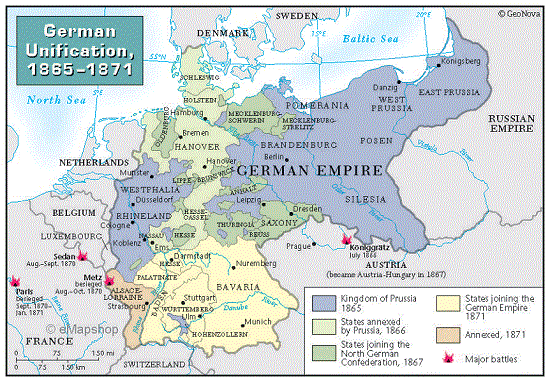 SUMMER BOOK SALE through June 30, 2018
Kindle edition now $6.95, print edition now $15.
Kindle edition now $2.99, print edition now $9.95.
Kindle edition now $2.99, print edition now $6.95. My new book Money and Work Unchained is $9.95 for the Kindle ebook and $20 for the print edition.
---
NOTE: Contributions/subscriptions are acknowledged in the order received. Your name and email remain confidential and will not be given to any other individual, company or agency.
| | | |
| --- | --- | --- |
| Thank you, Suzanne S. ($50), for your magnificently generous contribution to this site -- I am greatly honored by your support and readership. | | Thank you, Dan A. ($50), for your marvelously generous contribution to this site -- I am greatly honored by your steadfast support and readership. |
Read more...