Rising wedges tend to lead to declines, so ignore them.
At long last, we have reached the Nirvana of consensus: the stock market is heading to new all-time highs. Even the perma-Bear camp seems to have accepted the inevitability of new all-time highs ahead: The FANG stocks are hitting new highs, the Russell 2000 Small-Cap Index is hitting new highs, and the laggard S&P 500 is sure to catch up to its peers, as it climbs the ladder of higher lows. Once again we've reached the Nirvana of ever-higher stock valuations.
Or not. That troublesome kid watching the naked Emperor ride past in his imaginary finery keeps muttering about rising wedges. Consider the Russell Small-Cap Index (RUT):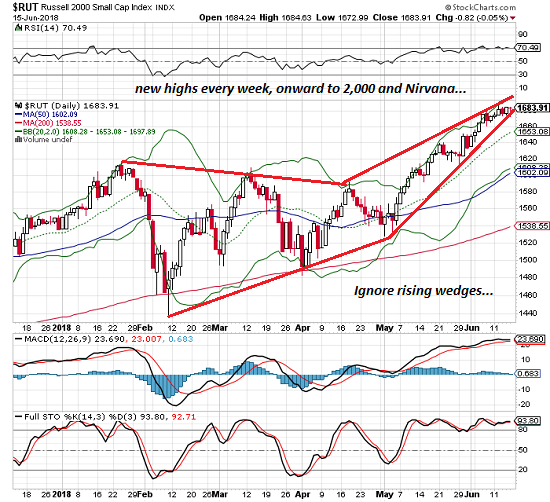 The Raging Bull of the FANG stocks, Netflix: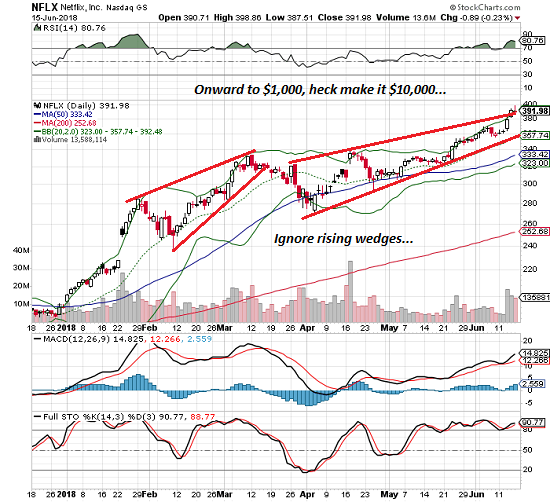 The S&P 500: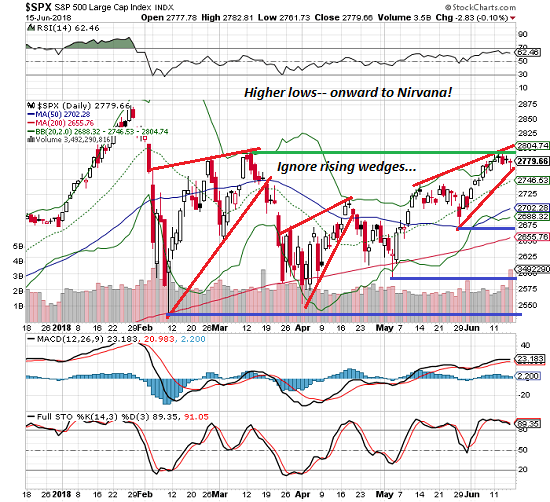 And the so-called "fear index," the VIX, reduced to the Nirvana of complacency and supreme confidence: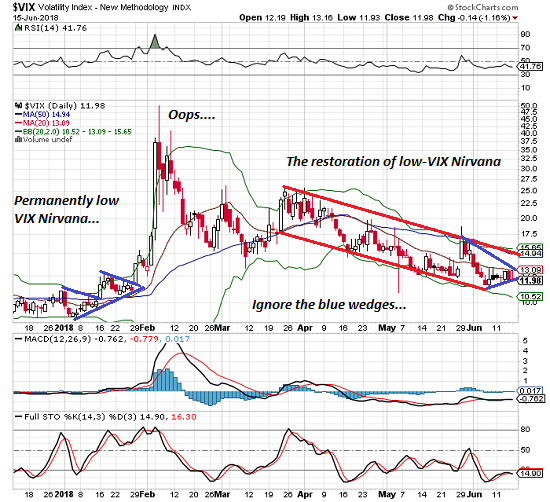 The Nirvana of January--super-low VIX and an ever-rising stock market-- was disrupted by an unwelcome eruption of reality.
The beaten down VIX traced out a couple of blue wedges before the eruption, but let's ignore them. What matters is order was restored to the Universe by the triumph of complacency and confidence as the VIX was ground down to sub-12 levels again.
Rising wedges tend to lead to declines, so ignore them. Never mind their ubiquity-- Nirvana blasts right through resistance and rising wedges.
The faithless few might be troubled by the similarities of late January to the present, but the faithful have supreme confidence in the Fed, the tremendous bite of the FANGs and the all-powerful forces of greed and complacency--a marriage made in heaven!
Here's a look at the real Nirvana: the income and wealth gains of the top .1%.
Debt-serfs "own" nothing but debt, the Technocrat class shouldering student loans and mortgages keeps the machine running by working themselves to exhaustion, and the speculative class skims virtually all the gains.
Stock market Nirvana feeds wealth/income inequality Nirvana.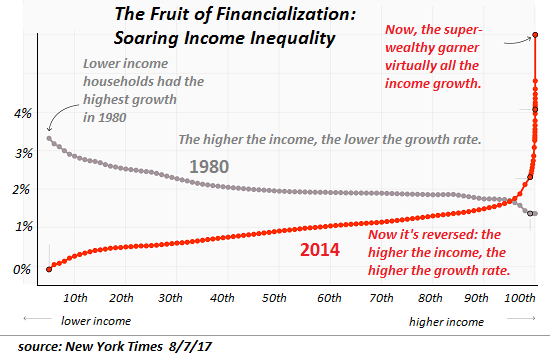 My new book Money and Work Unchained is $9.95 for the Kindle ebook and $20 for the print edition.
---
NOTE: Contributions/subscriptions are acknowledged in the order received. Your name and email remain confidential and will not be given to any other individual, company or agency.
| | | |
| --- | --- | --- |
| Thank you, Royce M. ($150), for your beyond-outragously generous contribution to this site -- I am greatly honored by your steadfast support and readership. | | Thank you, Thomas M. ($20), for your splendidly generous contribution to this site -- I am greatly honored by your support and readership. |