$8 per vial in competing developed-world nations and $38,892 in the U.S. That says it all.
Thanks to decades of gangster films, we all know how gangster capitalism works: the cost of "protection" goes up whenever the gangster wants to increase revenues, any competition is snuffed out, and "customer demand" is jacked up by any means available-- addiction, for example.
This perfectly describes the pharmaceutical industry and every other cartel in America.
You might have read about the price increase in Acthar gel, a medication to treat
Infantile Spasms
. (via J.F., M.D., who alerted me to the repricing of this medication from $40 in 2001 to the current price of $38,892.)
The compound first received approval in 1950,
and various branded versions have been approved in recent years. Let's be clear: this medication did not require billions of dollars in research and development, or decades of testing to obtain FDA approval; it's been approved for use for the past 68 years.
Yes, you read that correctly: a medication that's been in use for 68 years went from $40 a dose in 2001 to $38,892 today. Don't you love the pricing? Not a round 38 grand, but $38,892. You gotta love these gangsters!
There's another related term to describe this form of capitalism: racketeering.That's what mobsters do--operate rackets.
The Big Pharma racket enriches a number of gangs practicing gangster capitalism: the drug companies themselves, of course, but some doctors are profiting from the racket, and so are pharmaceutical lobbyists:
In 2014 Mallinckrodt raised the price of Acthar further to $34,000. The Federal Trade Commission and attorneys general from five states sued Mallinckrodt for anti-competitive behavior with regard to the acquisition of Synacthen Depot and the monopolistic pricing of Acthar, and in January 2017 the company settled, agreeing to pay $100 million and to license Synacthen Depot to a competitor. According to Kaiser Health News, Mallinckrodt responded by increasing its Congressional lobbying to $610,000, and its contributions to Congress members to $44,000, in the first quarter of 2017.
As an off-patent pharmaceutical, a similar drug, differing in formulation, available in Europe, made by a different manufacturer, sells for $8 per vial.
So a medication to treat infants costs $8 per vial in Europe and $38,892 in the U.S. Don't you just love gangster capitalism to death? Because death and suffering is the gangsters' ultimate threat: pay up or die.
Don't you wish you had a racket where you could raise prices by 10% a year like clockwork, or triple the price of your "product" every decade?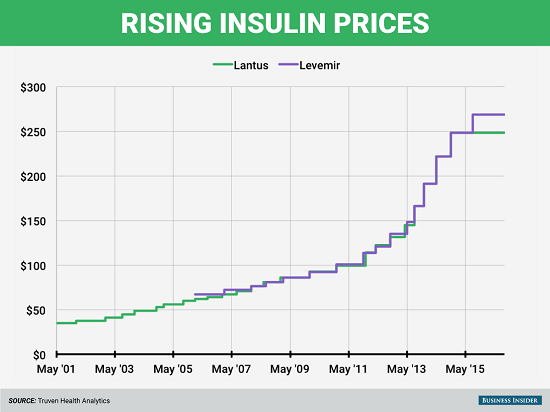 The increases are effective as of July 1. In most cases, the increases are just over 9%, which is in line with the annual 10% price hikes adopted by most drug companies. Putting that number in context, core inflation printed at 2% last week.
Here's a chart of the net result of gangster capitalism: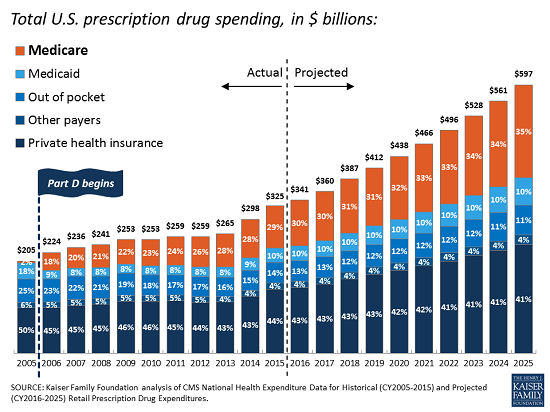 Gangster capitalism is the new model of "growth" in America, the model used by every cartel from higher education to Pentagon contractors. Eliminate actual competition, raise prices in lockstep with other cartel members, lobby the government to pay your extortionist prices, and threaten any resisters with severe consequences.
Try resisting your local government's property tax increases to cover insiders' pensions and healthcare benefits: it's always "for the children," of course, and if you don't pay up, we'll just auction off your house.
There's no difference between that and being told you're gonna be wearing concrete overshoes if you don't comply.
The U.S. economy is nothing more than an exploitive jumble of rackets, insider plundering and gangster capitalism. $8 per vial competing developed-world nations and $38,892 in the U.S. That says it all.


Summer Book Sale: 30% off Kindle editions, 25% off print editions. If you're interested in real solutions, check these out:
---
NOTE: Contributions/subscriptions are acknowledged in the order received. Your name and email remain confidential and will not be given to any other individual, company or agency.
| | | |
| --- | --- | --- |
| Thank you, Kay R. ($5/month), for your splendidly generous pledge to this site -- I am greatly honored by your support and readership. | | Thank you, Price T. ($50), for your magnificently generous contribution to this site -- I am greatly honored by your steadfast support and readership. |